When one of your patients clicks the Submit button, your chance to connect with them isn't necessarily over.
A custom Acknowledgement Page can provide three very useful functions:
It tells your user that they've successfully submitted your practice form

it gives your users immediate, positive feedback
duplicate form submissions are avoided



It can tell them what to expect will happen next

let them know who will be in contact with them
tell them about how long it will take



It's a chance to direct them to another page on your website

provide a link to a page on your site that they should see next
display images of people or products that they may be interested in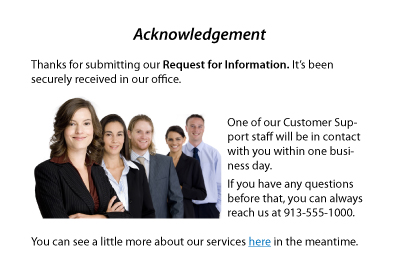 Ideally the acknowledgement page will reside on your website, so that your full menu is available for them to continue browsing your site. Just send us the link and we'll make sure that each time someone submits your form they'll see your message.